Event started October 25, 2013 and ended November 5, 2013.  War of the Fallen crashed during the event so it was extended.  This was the 2nd event to have Raid Boss Encounters and the 1st event not to introduce new Treasures.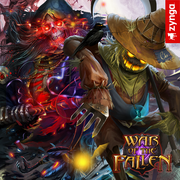 Special Event Boost Cards
Edit
Progression Rewards List
Edit
Halfway Leaderboard Rewards
Edit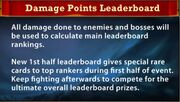 Leaderboard Rewards List - Damage
Edit
Leaderboard Rewards List - Gears
Edit
Event Store - Gears
Edit
The King needs more Magic Gears. He would like to exchange some with you.
Ad blocker interference detected!
Wikia is a free-to-use site that makes money from advertising. We have a modified experience for viewers using ad blockers

Wikia is not accessible if you've made further modifications. Remove the custom ad blocker rule(s) and the page will load as expected.